I happened to be on twitter the other night and Layla, from The Lettered Cottage, sent me a tweet saying that she'd had a great time making a cute little button for my blog for her new
blogroll.
I immediately went over to her blog to see what she came up with and then straight back to twitter to ask if I could
steal
borrow it! She said yes and was even sweet enough to email me a bigger copy cause when I blew up the little one it was fuzzy.
Wanna see my new bloggy button? Please feel free to take it to replace my old one if you have it, or take it for the first time if you don't already have it. I will love you forever! (ok, I'll love you anyway, but it would make my heart go pitter patter if you take it)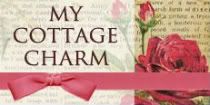 Layla is one of the sweetest gals in all of bloggy land and I adore her! SO, thank you Layla for the sweet gift!
If for some reason you don't know Layla (like you've been living under a rock or something) you need to go over to her blog and see all the wonderful decorating ideas for yourself. She and Kevin have boundless energy, and talent running out of every pore of their beings! Check out
The Lettered Cottage
today, you won't be sorry!
Hope you have a blessed week!
Missy